PLEASE NOTE: The production of our video series is a work in progress. Not all videos are available just yet – we're working on them as fast as we can.  The green check mark means the video is up and running.
WELCOME TO UP A TREE 

Up A Tree Founder Mark Sullivan talks about his business and how his low cost trees service alternative saves qualified homeowners up to 65% off the cost of their tree service.
WHAT IS A $50 TREE?

Yes, Up A Tree started as the $50 tree company, and we still fell trees for as low as $50. Find out what qualifies for this extraordinary price in this short video.
SIZING YOUR TREES

The first step in building your own estimate is defining the sizes of your trees. Here are the Up A Tree guidelines for defining small, medium and large trees.
TAKING PICTURES OF YOUR TREES

Trees look very similar. The difference between yours and your neighbor's is where they are. Here are simple techniques to take informative pictures to build a super accurate estimate.
TAKING PICTURES OF YOUR DROP ZONE
The most important factor in cutting your trees is where they can land. If you have a clear area with few obstacles pictures showing those conditions on the ground mean you'll get a great price.
WHAT IS A 'NO-STRIKE' OBJECT?
In the tree service business there are certain things that we can never hit with branches or trunks of trees. This video is a quick rundown on objects we need to avoid – THIS IS IMPORTANT
CLEARING THE DROP ZONE
It is your responsibility to clear the drop zone of all movable obstacles and hazards. Here is what you need to do to make your job simple and safe.
UPLOADING PHOTOS/VIDEO

Uploading your pictures and videos is simple and easy with our fabulous webform. Here's a great short video on how to do it on a PC, directly from an Android phone or an IPhone.
BUILDING YOUR ESTIMATE
You use a simple form on our website to develop an accurate estimate of the cost of your tree work from Up A Tree. We show you how to use this great system.
OVERVIEW OF OUR CONTRACT PROCESS
Doing business with Up A Tree is simple and easy – this video presents an overview of the terms and conditions which apply.  These are words our lawyers insist we must have – here's here's what they mean. 
WHAT TO EXPECT WHEN WE ARRIVE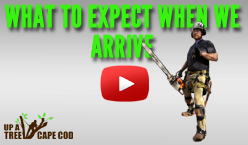 Up A Tree does business differently – that's how we save our customers up to 65% on their tree service.  When we arrive at your house we come prepared to do a job – right then and there.  Here's what to expect.
UP A TREE CANCELLATION POLICY
Our success over the years is based on a great relationship with our customers.  When things change, we notify you – we expect the same in return.  Here's how our Cancellation Policy works.
MAKING FIREWOOD
We cut a lot of trees for folks who intend on cutting them into firewood.  This video is a primer on how to trim off branches, cut to length and then split your trees into usable firewood.
BUILDING A FIRE
One of the ways our customers save 65% on the cost of their tree service is to deal with their tree debris themselves.  This video shows our favorite techniques to build a great fire to take care of your downed trees.
RESOURCES
At Up A Tree we do things differently – for instance, we cut trees!! We don't do a lot of things an old fashioned, full service tree company does – but we'll refer you to folks who do.
CARBON RELEASE & CLIMATE CHANGE
What is the role of trees in global climate change?  What is the impact on the planet of the carbon they store and it's release when they a transformed, either through chipping, burning or just rotting?
CREATING A TESTIMONIAL FOR UP A TREE
We have hundreds of satisfied customers all over the Cape and across Southeastern Massachusetts.  You can share your great experience on Facebook or on our website, with comments or video.  Here's how.
OUR REFERRAL INCENTIVE PROGAM
We love it when people love our work and tell other's about us!! We've developed a little program to thank you for your referrals – we've got a few options – Here is how it all works.